Fashion Show in Valdosta Daily Times
Valdosta Daily Times Coverage of SOGWOA's 2019 Fashion Show Benefit
FEATURED NEWS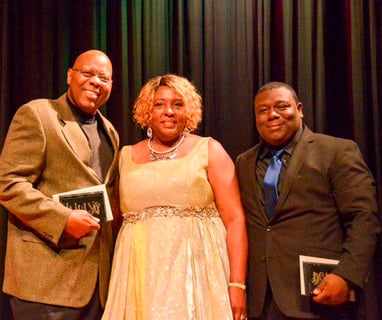 VALDOSTA – Servants of God With Open Arms recently hosted "Victorious," its Seventh Annual Fashion Show and Dinner Program, at Mathis City Auditorium.
The mission of the annual event is to raise awareness of terminal illness – cancer, lupus, heart disease, etc., share knowledge and support, and generate funds to support families in the community who are dealing with health challenges, organizers said.
Valdosta Police Officers Travis Hodges and Daryl Lester were honored for "service to the Valdosta community," organizers said.
In Memory plaques were presented to the families of the late Marsharie Ingram, Emma P. Simmons, Tanyala Calloway and Janice Washington Jones to "help keep their lights shining," organizers said. They were involved in the community.
Presentations were made by Wanda Denson, SOGWOA founder, Chiffon Raybon, SOGWOA secretary, and Dr. Beverley Richardson-Blake, SOGWOA member to family members.
Survivors such as Rosetta Carrington, Gwendolyn and Troy McQueen, Ivana Easley and others were recognized and honored during the evening.
Audience members could join the candle-lighting ceremony to recognize and honor family members.
The annual fashion show is organized and coordinated by SOGWOA member Tonia Singleton. Mistress of Ceremony for the evening was Rico Tucker. Clothing was provided by Belk Department Store – Valdosta Mall.
Anyone interested in making a donation, or would like to learn more about the organization, contact Wanda Denson, (229) 506-2444 or email servantsofGodwithopenarms@yahoo.com. Membership is open to anyone interested in serving/ volunteering in the community.
Credits: Valdosta Daily Times https://www.valdostadailytimes.com/news/local_news/fashion-show-raises-illness-awareness/article_907f077b-3448-597b-a693-4817fe0756e4.html