Celebrate Juneteenth at Unity Park
Embracing Diversity and Honoring Black History
EVENTS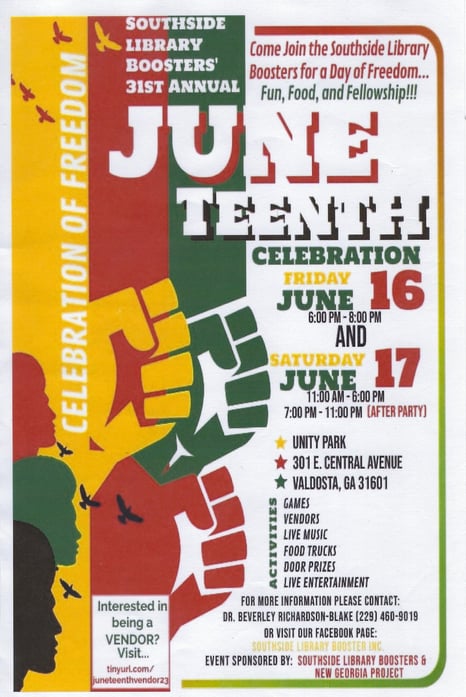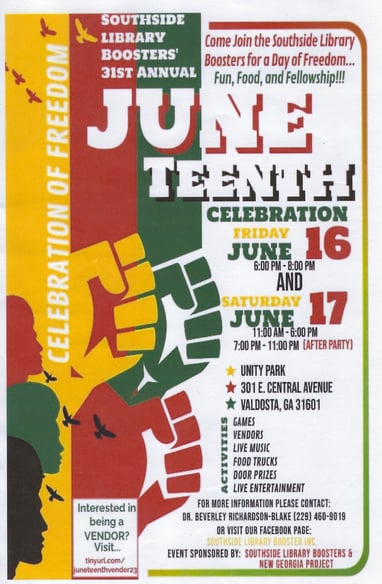 Celebrate Juneteenth at Unity Park
Embracing Diversity and Honoring Black History
Hello, Valdosta community! Get ready to mark your calendars for an exciting and meaningful event. Servants of God With Open Arms (S.O.G.W.O.A.) is thrilled to announce that we will be participating as a vendor at the upcoming Juneteenth celebration at Unity Park located at 301 E. Central Ave, Valdosta, GA 31601.
Juneteenth, also known as Freedom Day, is a commemoration of the emancipation of enslaved African Americans in the United States. It is a time to reflect, honor, and celebrate the rich history, culture, and achievements of the Black community.
Join us on June 16th from 6 to 8pm and June 17th from 7pm to 11pm for two incredible evenings filled with games, prizes, vendors, door prizes, food trucks, and live entertainment. The best part? Admission is free, so bring your friends, family, and neighbors to experience the joy and festivities.
S.O.G.W.O.A. is proud to be a part of this event, and we encourage you to support Juneteenth and embrace diversity. As a community-focused organization, we understand the importance of coming together, celebrating our differences, and honoring the struggles and triumphs of the past. Let's stand united, promoting love, equality, and understanding.
Make sure to visit our S.O.G.W.O.A. booth at the event. We will have information about our mission and services, along with some exciting surprises. By supporting our booth, you'll be contributing to our ongoing efforts to provide support and care to families facing terminal illnesses in the South Georgia region.
Don't miss out on this incredible opportunity to celebrate Juneteenth, learn about Black history, and enjoy a vibrant and inclusive community gathering. Together, we can create a future filled with compassion, unity, and respect.
We can't wait to see you at Unity Park on June 16th and 17th. Let's make this Juneteenth celebration a memorable and empowering experience for all.
See you there!
The S.O.G.W.O.A. Team